Welcome to KennyLavitz.com!

Be sure to check out Kenny's recently released album titled "FlipSide"

"This guy is about 400 kinds of Funky. The vocals are down home, and the playing is passionate and unpredictable. BIG FUN!"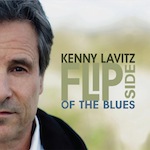 "One of the city's most talented players finally makes The CD that will grab attention everywhere"
- Bob Ancheta, Blues Show Host, KINK FM
"Blues-jazz guitarist, Kenny Lavitz, is a prolific figure in the Portland music scene. Whether playing solo or with his band he can really deliver."
- The Oregonian